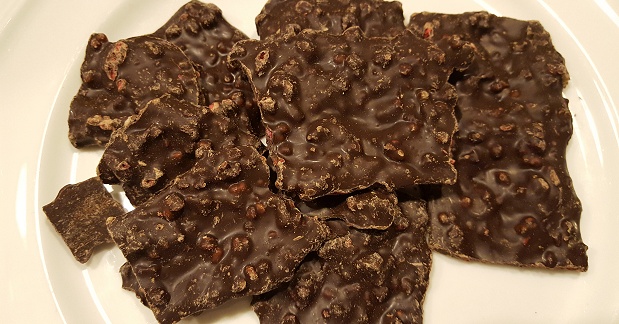 7th Street Confections Dark Chocolate Thins
August 14, 2017
7th Street Confections is a new line of "better for you" treats from the long established Pearson's Candy Company. The line up of Dark Chocolate Thins include flavors such as Raspberry & Quinoa; Strawberry; Blueberry & Almond; and Pineapple & Toasted Coconut.
P. Edward Pearson and his two brothers, Oscar and John, opened their confectionary distribution firm in 1909 in Minneapolis, Minnesota. Later, two more brothers joined in the excitement.
If the name Pearsons doesn't ring a bell with you, perhaps you'll recognize the Nut Goodie Bar, 1912, and Salted Nut Roll, 1933. My grandmother lived in Minneapolis, and I used to spend long, lazy summers with her when I was a kid. I remember seeing the Pearson's candy factory from the highway as we traveled back and forth. Across the street from her house was a small convenience store named Tom Thumb. We'd buy Salted Nut rolls there. Such memories!
I Tried the Raspberry Quinoa Dark Chocolate Thins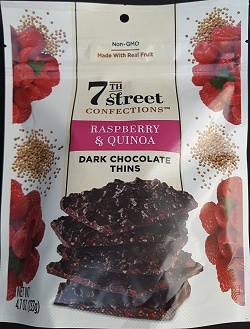 The Raspberry Quinoa Dark Chocolate Thins are 54% cacao. The raspberries are freeze-dried, and the quinoa is made similar to a crispy rice. The combination makes an interesting and delightful texture.
The aroma is earthy, spicy, and chocolatey. The raspberry bits are tart and sweet while the chocolate is nutty and nicely earthy. There are deep roasted notes with a hint of vanilla.
It's sweet at the end, and the aftertaste is a pleasant lingering chocolate.
The quinoa adds a subtle oatmeal or toast flavor. And it adds a good crunch. The raspberry seeds stick in your teeth, but that's to be expected of freeze-dried raspberries.
These broken chunks of thin chocolate remind me of chocolate bark. They are delicious and addicting. I have a message to the marketing people at Pearson's…. Make a bigger package!
Here's a link to buy on Amazon.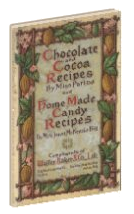 Chocolate And Cocoa Recipes From 1909
Maybe the Pearsons had inspiration from Miss Parloa's Chocolate and Cocoa Recipes. You can be inspired too with this old recipe book that we updated for easier use.
Click here to get your own copy of this fascinating cookbook.


Bryn worked for nearly 10 years in a research and product development for Ambrosia Chocolate Company in Milwaukee, Wisconsin. Now she develops all of the CUO lessons and coaches the members of the
Primal Chocolate Club
.

Latest posts by Bryn Kirk (see all)