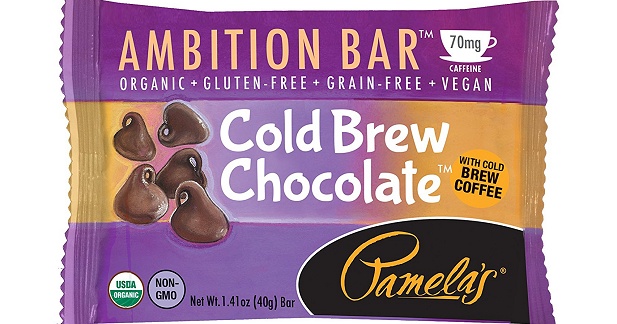 Ambition Bar: Cold Brew Chocolate
November 6, 2017
Pamela's Products makes the Ambition Bar as part of their line-up of gluten-free snack bars. In addition to the Cold Brew Chocolate bar that I'm tasting today, they make Salted Caramel Latte, Espresso Myself, Masala Chai, and Matcha Happiness. I sense a theme! And, yes, they all have caffeine - 70 milligrams in each.
According to their website, www.pamelasproducts.com, they never use artificial additives, high fructose corn syrup, or GMO ingredients. The Cold Brew Chocolate bar is organic, gluten-free, grain-free, and vegan. 
How Does It Taste?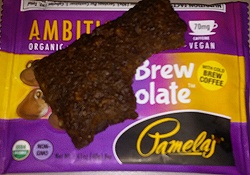 Hey, with all the things this bar DOES NOT have, is there anything left that makes it taste good?
I say yes!
So many flavors and aromas peel off layer after layer as you eat this bar. Initially, there's an obvious chocolate flavor, but it quickly gets overpowered by an intense green coffee/fermented fruit flavor.
After the coffee starts to fade a little, I taste the nuttiness of the almonds and a distinctive banana flavor. Next, there are subtle flavors of dried fruit, honey, and vanilla. There's a little bitterness towards the end with a lingering aftertaste of nuts and coffee.
I've recently come to enjoy cold brew coffee. It has a very unique, complex, and striking flavor profile, and I'm a fan. If you're a fan of cold brew coffee, you're going to really enjoy this bar. If you like coffee but love chocolate more, than you might be a little disappointed as the coffee overwhelms the chocolate.
I think the bar would be just as good without the caffeine. That said, I imagine that when I'm on a long bike and start to loose my energy, this could be just the thing I need to make it home!
Here's a box of 12 on Amazon for less than $2 each (at time of publishing this post).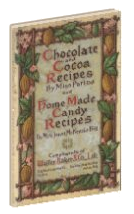 Chocolate And Cocoa Recipes From 1909
This holiday season, imagine serving some chocolate candies your guests have never seen! We took an old recipe book and updated it for easier use.
Click here to get your own copy of this fascinating cookbook.


Bryn worked for nearly 10 years in a research and product development for Ambrosia Chocolate Company in Milwaukee, Wisconsin. Now she develops all of the CUO lessons and coaches the members of the
Primal Chocolate Club
.

Latest posts by Bryn Kirk (see all)