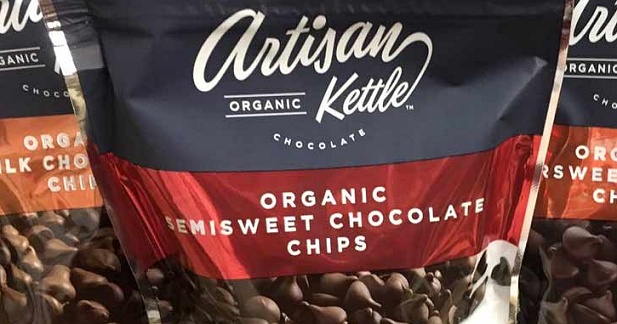 Artisan Kettle Organic Chocolate Chips
September 29, 2017
There's another player in the organic chocolate chip arena; Artisan Kettle made by Clasen Quality Chocolate. They are available in four varieties - semisweet, bittersweet, milk and white. The chips are organic and fair trade certified. Sourced from South America.  
Why organic chocolate? It's the thing to do, right, because organic is listed on lots of labels so why not chocolate?
Non-organic crops are treated with synthetic fertilizers, herbicides, or pesticides and cacao trees are no different. Thankfully, it's common-place now to walk to into a grocery store and find organic fruits and vegetables and lots of other foods.
Over the years, organic foods have become more available and more affordable (yay!). In chocolate, it's not just the cacao that's organic. Other ingredients such as sugar, dairy, vanilla, nuts, etc. should be organic as well.
Sometimes organic chocolate isn't 100% organic due to one or more of the added ingredients being non-organic. Check the label, most of the time it will indicate the organic percentage.
Artisan Kettle Chocolate Chips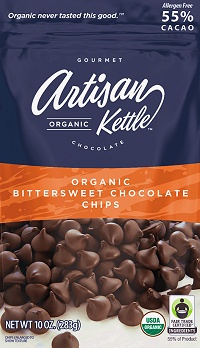 Today, I'm tasting three of the four flavors of Artisan Kettle chocolate chips. I bought them at my local grocery store. I have the Semisweet 44%, Bittersweet 55%, and the Milk 33%.
The milk chocolate chips are more chocolatey than the standard milk chocolate chips. The cocoa notes have a strong presence throughout the entire taste. The chocolate is fruity and little nutty. The dairy notes are buttery, and milky, with a hint of honey. The chip feels a little course in the mouth.
The 44% semi-sweet chocolate has a sweet
ness and flavor that reminds me of marshmallow. I taste notes of toast, spice, and a hint of vanilla.  The chip feels a little course in the mouth.
The 55% carries a strong impact of chocolate with notes of oatmeal, nuts, and just a bit of roasted coffee. This chip feels a little course in the mouth too.
All three of these flavors are tasty by themselves. I haven't baked with them yet, but I did make a no-bake nutbutter cookie with the 55% dark chips. The chips retained their strong chocolate taste in spite of the other intensely flavored ingredients like sunflower seed butter and raw honey.
Oh yea, forgot to answer my own question, why organic chocolate? Because it's not only better for your health, but it's so much better for the health of the farmers (no more applying toxic chemicals to their crop and soil) and for the health of the environment (more sustainable cacao means years and years of delicious chocolate).
Still need more reasons? Just taste it, and feel good about it already!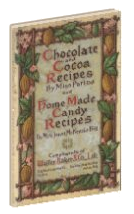 Chocolate And Cocoa Recipes From 1909
Here are some chocolate candies your friends and family have never seen! We took an old recipe book and updated it for easier use.
Click here to get your own copy of this fascinating cookbook.


Bryn worked for nearly 10 years in a research and product development for Ambrosia Chocolate Company in Milwaukee, Wisconsin. Now she develops all of the CUO lessons and coaches the members of the
Primal Chocolate Club
.

Latest posts by Bryn Kirk (see all)