CUO Chocolate Classes...
... the Easiest Way to Learn Everything You Want to Know About Chocolate!

Chocolate Class Lessons (PDF)
Enjoy 9 months of chocolate classes with 40 lessons, one delivered to your email each week.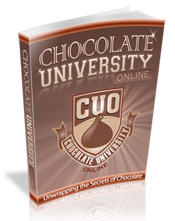 In this step-by-step complete course you will learn exactly how to taste chocolate. You'll develop your own deep understanding of chocolate from our own resident chocolate expert. Imagine your chocolate enjoyment skyrocketing to amazing new levels.
Beyond chocolate tasting you will also discover the entire chocolate development process from bean to bar, get a grasp of its history, and learn about using it in cooking and pairing with other foods.
Whether you're a chocolate lover looking to grow your knowledge, or you're already in the chocolate industry and need a broader background, this class is for you. It starts on your schedule with the first lesson delivered immediately upon joining.

The chocolate lessons are just $4.95 for the first month, and then $14.95 for the next 8 months. 60-day money-back guarantee. Join now for immediate access.

Need more information? See our Chocolate Classes detail page.
Chocolate University lessons are the best. Not only am I learning interesting and helpful information but the chocolate labs & weekly assignments are delicious! P.S. They're really lots of fun too.

- Sue from Yuma, Arizona
---

Chocolate Professional Class
This is our premiere class for chocolate professionals - those already in a chocolate business or wanting to be in a chocolate business.
To make sure you have a solid foundation, this course puts you on the fast-track with 5 lessons each week delivered in written PDF format and 5 lectures each week delivered in audio MP3 format. With 40 lessons in total that's 8 weeks of powerful chocolate knowledge.
But the best part of our professional class is that you receive one-on-one, personal assistance through our online message center. You get 3 months of Primal Chocolate Club elite level personal coaching giving you the ability to get answers for your lessons, assignments, and unique business challenges.

Get more details on our Chocolate Professional page. Two payment options available.
The [one-on-one coaching] provided me with the personal attention that I needed to develop my chocolate tasting skills. With Bryn's expertise, guidance and feedback, I have a better understanding of the sensory properties of chocolate and the tools to continue exploring the wonderful wide world of chocolate.
- Sue from Fairfield, CA (Applied Sensory, LLC)
---

Chocolate Class Lessons with MP3 Audio
Sometimes you might want to take your classes with you where reading is not an option. With the class audio lessons you can listen in the car, on a hike, or in the grocery store as you're shopping for chocolate!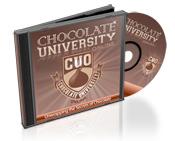 With an MP3 audio of each class lesson you have flexibility. The MP3 classes are similar same material as the written lessons but in a convenient audio format. These lessons can stand-alone or use them in conjunction with the written material.
Now you can get both the printed lessons in PDF format and the audio lessons in MP3 format with download links delivered to your email each week for 40 weeks.

The chocolate lessons with MP3 audios are $9.90 for the first month and then $19.90 per month for 8 months. 60-day money-back guarantee. Join now for immediate access.
As a chocoholic, I crave both chocolate and my Chocolate University Online lessons.
- Jean from Waukesha, Wisconsin
---
For a personalized learning experience, step up to the Primal Chocolate Club.
This exclusive club provides personal chocolate coaching. As a member you will receive access to a personal message board where you can ask one question each day (Mon-Thurs) about your lessons, assignments, or other chocolate related issues.
Membership in the Primal Chocolate Club is limited to a maximum of 50 students. A waiting list is available when all club positions are filled. You'll be notified when a position becomes available, first-come first-served.
Need more information or want access to the Gold Circle - elite level coaching? See our Primal Chocolate Club page for details.
I've really loving your classes! I've learned so much already!

- Dominique from Columbia, South Carolina
---

Chocolate MasterMind Groups
Gain a new perspective on chocolate with a small group of chocolate entrepreneurs and industry professionals.
Each mastermind group consists of seven members and a Chocolate University Online staff moderator. The group meets at the same time each week for one hour. You'll have an opportunity to ask questions, express concerns, and get feedback from the other members of your mastermind group.
Move your chocolate business forward faster than you've ever imagined with the power of a MasterMind! With 4 to 5 sessions each month you can skyrocket your chocolate and business expertise. The value of this group can put thousands of extra dollars in your pocket.
Each MasterMind group commits to a minimum of 3 months. This helps build trust among the members and contributes to high-quality lasting value. Most groups get so much value they will decide to renew after three months.
Groups commence when seven new members become available. Get on the waiting list now. We will contact you in the order of signup when creating the next MasterMind session.

Membership in a Chocolate MasterMind Group is $97 per month.
At that low price you'll want to get on the waiting list now!
I loved the Chocolate University Online lessons. Thanks again for all this valuable information and the wonderful recipes. Besides personal enjoyment, it has really helped me in my catering business also!

- Frani from Austin, Texas