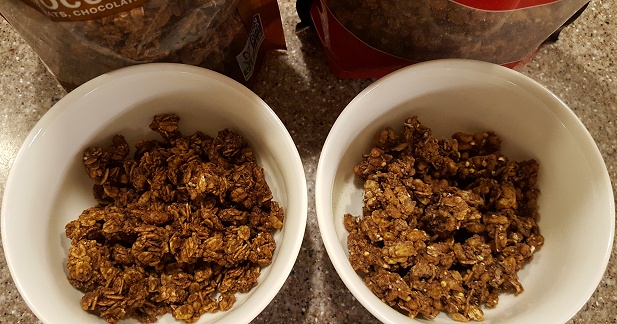 Chocolate Granola Taste-Off: Bear Naked vs. Kind
October 16, 2017
I enjoy eating granola as a snack, with or without milk. I especially like chocolate granola (big surprise,right?) In fact, at this very moment, I'm munching on delicious chocolate granola while typing away at my computer. I like the crunch, I like the chocolate and the oatmeal flavors, and I like that a little goes a long way.
How did granola come to be? According to what I've read, there was 'Granula' and then, 'Granola.' Both were registered trademarks in the late 1800's and both were foods made from whole grains, baked until crispy and then crumbled.
Granula was invented in 1863 by Dr. James Caleb Jackson while he worked at the Jackson Sanitarium. The Jackson Sanitarium was a prestigious health spa in Dansville, New York. Jackson's Granula cereal was made from Graham flour. Around the same time, a similar cereal was developed by John Harvey Kellogg. He originally named it Granula but later changed to Granola to keep from getting sued by Jackson.
Bear Naked vs. Kind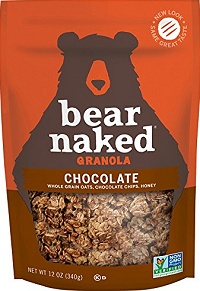 Today's granola review involves two different brands; Bear Naked Chocolate Granola and Kind Dark Chocolate Whole Grain Clusters.
These two brands look almost identical in appearance, but the ingredient statements are vastly different. And, as I expected, their flavors are also very different.
The Bear Naked Chocolate Granola has a bold chocolatey flavor with strong notes of honey and toasted oatmeal. There is a slight vanilla flavor at the finish.
The Kind Dark Chocolate Whole Grain Clusters has subtle chocolate notes with intense oatmeal and "grain" flavors that are nutty and toasted, woody and earthy.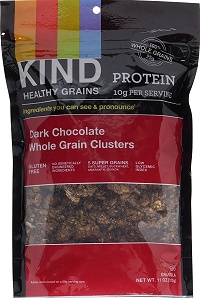 Bear Naked granola is crunchy at first, but then gets chewy as the honey flavors emerge. The sweetness level is good (although more intense than Kind),and I can tell that the chocolate is "enhanced." According to the label there is "chocolate extract" and "natural flavor." I can taste an unusual flavor once in a while that I can only describe as "a little fake." And the aroma sometimes suggests a chocolate "alcohol-like" odor similar to vanilla extract.
Kind clusters is super crunchy throughout and low in sweetness. It has more complex in flavors and textures than the Bear Naked product. I attribute this to the varied types of grains (millet, buckwheat, amaranth, and quinoa).
They are so different when I eat them right out of the package, so, I tried them in a bowl with unsweetened vanilla almond milk to see if I prefer one over the other.
Nope. Still good. Still different (if it matters, the Bear Naked granola turns the milk into chocolate milk, while the Kind chocolate clusters leaves only a slight brownish tint behind. Both are crunchy and hold up well in milk). 
I don't think I need to discover the best chocolate granola. But I will keep trying!
Both products are available on Amazon: Bear Naked Chocolate Granola and Kind Dark Chocolate Whole Grain Clusters.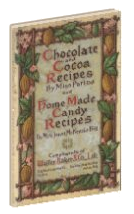 Chocolate And Cocoa Recipes From 1909
The holidays are coming! Imagine serving some chocolate candies your guests have never seen. We took an old recipe book and updated it for easier use.
Click here to get your own copy of this fascinating cookbook.


Bryn worked for nearly 10 years in a research and product development for Ambrosia Chocolate Company in Milwaukee, Wisconsin. Now she develops all of the CUO lessons and coaches the members of the
Primal Chocolate Club
.

Latest posts by Bryn Kirk (see all)