Coaching for Chocolate Professionals...
...The Easiest Way to Get an Unfair Advantage in Your Chocolate Business!
From: Bryn Kirk
Re: Your Personal Chocolate Coach to help you succeed
Dear Chocolate Professional,
Whether you're a chocolatier, make chocolates in your home, sell chocolates in a shop, work in a chocolate factory; or work alongside chocolate in a gift shop, restaurant, bakery or catering business; or even if you want to start your own chocolate tasting business or you are already engaged in a chocolate network marketing or home consulting opportunity, there is something you need for success...
For your chocolate business to succeed and make more money, putting you ahead of your competition, you must have a secret weapon that gives you credibility and confidence in your knowledge of chocolate and helps you out when you get stuck in your business.
You see, there is nothing worse than talking to your customers and having them ask a question about chocolate that you can't answer. You might know your own product in detail but not the answer to a seemingly simple, generic chocolate question. Your confidence shakes, your credibility comes crashing down, and that sale goes out the window.
Or imagine that part of your chocolate process is failing and you can't figure out why. You follow the instructions, do it over and over again, and get the same poor results. Again your confidence is shaken. If this gets out to your customers, your credibility may be questioned.
But there is a solution. What if you had your own personal chocolate coach, guiding you step by step, someone you could turn to whenever a problem arises? What if you had a way to learn everything you need to know about chocolate, covering a wide variety of topics? What if you had printed and audio references you could refer to again and again? Imagine how these things could make a difference in your business!
You Just Discovered the Secret to
Credibility and Confidence...
Chocolate University Online, with its lesson and lectures, will give you the solid foundation of expertise you need to have, covering a wide range of chocolate topics, in a way that will build your credibility and explode your confidence, resulting in more sales, with money pouring into your business.
But this isn't just some canned, one-size-fits-all education. We understand that every chocolate business has unique situations and circumstances. At a minimum your business has you, your personality and concerns, so the education must be tailored to meet your needs.
The Chocolate University Online professional program includes personal one-on-one coaching so you get the most out of the material and can apply it in a way that makes the most sense for you. Plus you'll get answers to solve your unique business challenges.
Through the personal coaching and the step-by-step complete course you will learn all about chocolate, from developing your own taste preferences to fascinating chocolate history to pairing with food and wine and much more. You'll develop your own deep understanding--(even if from square one)--from a Master of Chocolate...
About Your Instructor
Hello, my name is Bryn Kirk. Thanks for visiting Chocolate University Online today. I am the course facilitator here. My goal is to help you succeed in your own chocolate business by providing you with a well-rounded "liberal arts" chocolate education on top of coaching for your unique needs.
For nearly 10 years I worked for Ambrosia Chocolate in a research and product development capacity, producing chocolate formulas for such companies as Pillsbury, Nabisco, Good Humor, ConAgra, Edy's, Mrs. Fields, and Quaker Oats.
In addition to creating new chocolate formulas, and modifying existing ones for particular needs, I also helped diagnose quality issues -- from formulation problems (impacting such things as bloom, viscosity, and shelf life) in the factory to application problems (such as enrobing, cooling, and packaging) in our customers' facilities.
Further to expand my roles, upon being identified as a "super-taster," Ambrosia trained me to be a taster on the taste testing panel. Eventually I ran the taste test panels for new products developed in our laboratory.
When you are in our chocolate professional program I will be working directly with you, one-on-one, to help with your success.
The "Taste and Understand Training Formula":
A Step-By-Step, Training Program!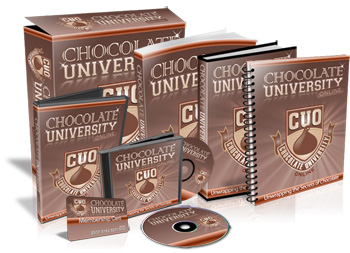 To make sure we're all on the same page, we present you with the "taste and understand training formula." This is a 40-lesson training program delivering 5 lessons each week for 8 weeks, an accelerated pace strictly for chocolate professionals like you.
Each lesson is strategically created in such a way that you'll see growth in your knowledge of chocolate from day 1, with each lesson expanding upon that knowledge like a balloon taking on more and more air.

Here's a Summary of What You'll Get in
Each of the Lessons...



Short and Easy to "Digest" Information...
Most lessons are only 4-7 pages in length and contain nothing but "the good stuff." Each lesson is purposefully brief, but thorough, so you can read it quickly and get back to business! Or put the audio lessons on your MP3 player and listen when you're on the move.



A Laboratory or Assignment to Complete...

Many lessons will include an appropriate sensory evaluation ("taste testing") assignment. This is an important step in putting new knowledge into practice.


A Process that Builds As You Go...
Every lesson builds on the previous information. Early on we discuss basics to quickly build a platform for expertise. Then we move into intermediate and advanced topics so you become the "chocolate guru" your customers want.


Chocolate Recipes...
These are for fun. Even before you were in a chocolate business you probably loved chocolate. You should keep that enjoyment in your business as well. These recipes can expand your offerings or simply be a "dish to pass" at a social event. They're sure to get people talking so you can talk about your business.


Chocolate Knowledge and Credibility...
When you know and understand the material in each lesson your credibility soars. You'll gain confidence and your customers will sense it! Since people prefer to spend money with those who are knowledgeable, helpful, and trustworthy you win. Your customers affirm your progress by spending more with your business.

In addition to the PDF, written format lessons, you'll receive the class lectures too. These are the same material presented in high quality digital audio. The lectures are professionally voiced, studio recorded and produced for a great listening experience.
If you prefer to listen instead of read, or your only time is in your car, you'll get the full set of lectures in MP3 format delivered on the same schedule as the lessons.
Most of the lectures are only 10-15 minutes long so you'll be able to listen over and over again to take in all the details.
Of course, for maximum learning, listen to the lectures and read the lessons. Then follow up with the laboratory and the assignment. And get all your questions answered with personal support from the...
Primal Chocolate Club - Gold Circle
Your chocolate training would not be complete without personal attention from your instructor.
The things you need to know and understand are as unique as you and your business. That's why we are including the Primal Chocolate Club personal coaching at the elite level and highest priority.
With 5 lessons per week you'll probably come up with a lot of questions. Or you'll want someone to review your assignments to make sure your learning is on track.
And although you can complete all lessons in 8 weeks you might still have questions that come up after. If you get behind in the work or just need help applying a lesson to your business, I'm here for you for 3 full months.
You'll get access to your own personal account in our online message center where you can post up to 10 separate questions each week, with most questions answered within a single business day.
With this total hand-holding chocolate education...
You get 5 lessons and lectures every 7 days so you can make progress quickly, yet fit each into your own unique schedule

You will enjoy the personal attention you receive, customizing your results to your exact needs for your chocolate business

You gain confidence and credibility with each step as you apply what you learn

You receive a certificate of completion that you can frame, giving you a token of your accomplishment to display publically

You will have a supercharged, more powerful chocolate business
What Are Others Saying?
Now that you found your way to this website, you've got a chance to boost your bottom line by learning more about chocolate and applying to your business. With the personal help it's never been easier!

"I thought I knew everything about chocolate! The Chocolate University Online courses showed me that there is much more to chocolate than chocolate dessert recipes and chocolate candy bars. I found that the information offered at Chocolate University Online is what makes a 'professional chocolate maker' and gives them that special chocolate touch."

- Frances Moore, Painless Cooking


"The [one-on-one coaching] provided me with the personal attention that I needed to develop my chocolate tasting skills. With Bryn's expertise, guidance and feedback, I have a better understanding of the sensory properties of chocolate and the tools to continue exploring the wonderful wide world of chocolate."

- Sue Langstaff, Applied Sensory, LLC


"I love the classes which made me feel like a real chocolatier when speaking to people and answering their questions regarding chocolate and cocoa. Now I understand how chocolate should taste, feel, and the various flavor notes associated with chocolate, and I know more about chocolate than I ever thought I would. I'm very happy to have found Chocolate University Online as it was very enriching to me. I would highly recommend it to anyone who is considering or working in the chocolate industry. Thank you Chocolate University!!!"

- Dominique, Dominique's Sweet Things


You Will Get Better Results in Your Chocolate Business
Starting Right Now...
By now you're probably wondering how much this is going to cost. This is a package of amazing value at a very reasonable price.
When I offer in-person consulting or guide chocolate tasting events I get paid hundreds of dollars for a few short hours of my time.
At Chocolate University Online you're getting over 100 hours of my presentation material distilled down into 40 comprehensive lessons. That's tons more information than you'd get from me in a single 2-hour presentation. Of course hiring me to provide all this in a classroom setting would cost a bundle.
If you could find a local college that offered something similar to our classes you'd pay hundreds of dollars for a single semester, and you would never get as comprehensive an education, or the personal attention and flexibility with your schedule that we provide.
A One-Time $497 Investment in Your Chocolate Career...
Pays Dividends for Years to Come
Times are tough, competition is fierce. I know you're here reading this because you're looking for an advantage in your business.
Everything you learn, every shred of credibility you can cling to, is going to boost your confidence and that translates to more success in your business.
The combined value of the Gold Circle elite level coaching program for three months plus the 40 PDF lessons and 40 MP3 audio lessons is $1,044. Of course we already offer some nice discounts on other pages of the site so you could easily find the three months of coaching at $447 total ($149 per month), and the 40 PDF and MP3 lessons package for $224.10 ($24.90 per month for 9 months). That's still a combined total of $671.10.
The focus of our Chocolate Professional program is the coaching, but we want to make sure you've got all the foundational information that comes with the lessons, so we include all 40 lessons in both PDF and MP3 for just $75 above the coaching price. That's an affordable, no-brainer good deal for you at just $522 total.
For your convenience we split that into two payments of $261 each, half now and the other half in a month.
But if you're willing to make a single payment right now, we'll knock another $25 off and let you have the entire Chocolate Professional package for only $497.
Either way you get access to all the lessons and all the lectures, 5 each week for the next 8 weeks. And you get access to me to answer your questions one-on-one through our private message center, up to 10 questions each week for the next 3 months!
All This and an Iron-Clad Money-Back Guarantee!
There's nothing to lose. Look over the materials, do the lessons, ask questions. Begin boosting your knowledge, credibility, and confidence.
Because the professional training is wrapped around my time to provide you with assistance, I can only give a refund during the first 7 days. So review the lessons, ask me questions, put the professional program to the test!
If, within a week, you honestly think that I failed to provide great business boosting knowledge and the personal guidance to help you in your chocolate business, then I will refund 100% of what you paid.
Why Should You Take Advantage of this Great Price
and Guarantee Right Now?
The reality is that I have a limited amount of time in my day. And by offering personalized coaching I have to use a lot of that time answering questions for my chocolate coaching students.
That's OK as I really enjoy the coaching. I want to give each student the time and attention they deserve. I'm sure you'll appreciate this too as I am able to give you the attention you need, when you need it.
But the downside is that sometimes the load gets too high, and I have to close down registration for new professional students.
I don't want you to miss the opportunity to get started. Enrollments can be shut down at any time (I have closed the club in the past), but I am accepting new professional students now.
Take advantage of the openings while you can and be comfortable with the protection of our guarantee.

Optional: Printed Lessons and Audio CDs
To reduce resources and save you money we deliver the lessons and lectures using the tools of the internet. But we've heard from some students that they wanted to also have the printed lessons and audio CDs delivered right to their office or store so they could have the ultimate in learning flexibility.
How about you? If you would like to hold the lessons in your hands and pop a disk into your CD player then you might enjoy the delivery of these physical copies.
With this option you'll get a binder along with the first 5 printed lessons. You will also get an audio CD that contains the first 5 lectures. Then each week for the remaining 7 weeks you'll receive 5 more printed lessons and the accompanying CD lectures.
As a bonus we'll also send you a Chocolate University Online logo
t-shirt that says, "Eat Your Own Homework!" Wear your new shirt with pride! (Be sure to include your shipping address and t-shirt size on the PayPal form where requested.)
| | |
| --- | --- |
| | All 40 lessons printed, all 40 lessons on CD, all delivered over an 8 week period is an extra $277. The price is in addition to the regular electronic delivery and includes all shipping charges and the t-shirt. (This offer is currently only available for students in the U.S.) |

Join Now While Access Is Still Available...
Full Value
$1044
Today $497
For security, when you click you'll be taken to a PayPal page that says Up At Dawn, LLC in the upper left. You can use your PayPal account, create a new PayPal account, or simply use your credit or debit card without a PayPal account.
When payment is complete follow the link back to our website. There you will provide your delivery information and...
YOU WILL RECEIVE YOUR FIRST LESSON INSTANTLY
(even if it's 2:00 a.m. on a Saturday)
Then you will receive an email 5 days each week for 8 weeks. Each will contain a download link for your PDF lessons and MP3 lectures.
Legal Information
Disclaimers and Privacy Policy
The first lesson is coming your way immediately upon completing your order. Included in your first class...

Lesson #1 -
You'll learn how milk chocolate gets its unique flavors.
You'll look at the ingredients of milk chocolate.
You'll compare colors and aromas of three different milk chocolate bars.
You'll taste the differences of those bars.
You'll get two different, easy to make, milk chocolate truffle recipes.

This lesson is yours instantly when you join. It's your chance to enhance your credibility while building your chocolate expertise and advancing your business.
If this sounds exactly like what you're looking for, let's get started right now.
See you in class,


P.S. If you are still undecided about joining, Click Here to view frequently asked questions. (You'll have to use your browser's BACK button to return to this page.)

"I appreciate your willingness to share your knowledge and experience. The best way to learn about products is to taste them with experts, such as yourself."

Sue Langstaff, Applied Sensory, LLC

P.P.S. If the professional program is too much, too fast, consider our chocolate lovers class. It's the lessons only, delivered 1 per week for 40 weeks, at a great savings.