The Chocolate Studio at Epcot's International Food and Wine Festival
November 24, 2017
I recently took a business trip to Walt Disney World in Florida. Yes, that's correct, it was business – chocolate eating business! My S.M.A.R.T goal: I will eat at least one chocolate item per day in as many Disney parks or Orlando attractions as I can fit into my four day trip, take notes and write a blog post for each item before Christmas!
So hang on, this will be a fun ride you'll enjoy as much as I do. Over the next couple weeks, I'll review what I found and tasted while at Disney World and at Orlando's World of Chocolate Museum and Café.
Chocolate in Liquid Nitrogen?
I'm going to start with the most unique and creative chocolate because I can't get this one off my mind. I happened to be with a group of people I know really well, all small business owners and all family in one way or another. We toured Epcot's World Showcase during the International Food and Wine festival and happened upon a small kiosk called The Chocolate Studio.
They were serving a Liquid Nitro Chocolate-Almond Truffle with Warm Whiskey-Caramel paired with a red Lenotti Recioto della Valpolicella wine. Wow,right?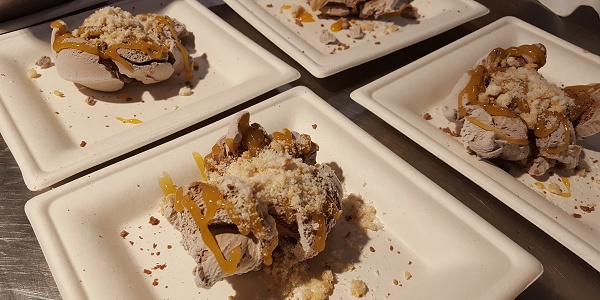 The chefs at the The Chocolate Studio used an ice cream scoop to throw a small ball of ganache into liquid nitrogen. The truffle under went a quick freeze. The result was a smooth, melt-in-your-mouth experience, similar to ice cream. The truffle was topped with a drizzle of warm whiskey flavored caramel and crunchy almond crumble.
But wait, there's more!
Served alongside the nitro chocolate-almond truffle was a delicious, jammy, sweet, Italian red wine. A perfect pairing. It was rather difficult to pick out separate flavors for the chocolate, caramel, almond ,and wine, but I would argue that that was not necessary. It's the marriage of all these flavors that was important.
Put it all together and I stand by my earlier statement - WOW! 
Next week: The Ganachery at Disney Springs – Cinnamon Truffle (extraordinaire!)
Travel with Chocolate Education...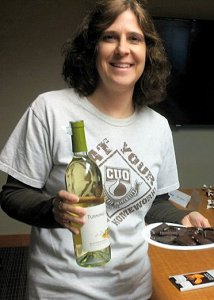 Join Bryn, students of Chocolate University Online, and other chocolate lovers on a journey of chocolate discovery.
Take a look at the Chocolate Travels website for more information on any upcoming chocolate immersion trips. Please put your name on the no-obligation waiting list for more information.


Bryn worked for nearly 10 years in a research and product development for Ambrosia Chocolate Company in Milwaukee, Wisconsin. Now she develops all of the CUO lessons and coaches the members of the
Primal Chocolate Club
.

Latest posts by Bryn Kirk (see all)