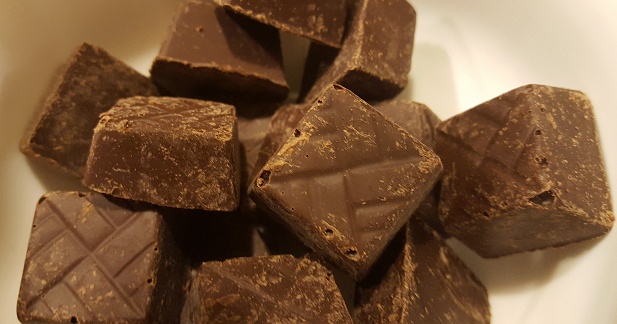 The Chocolate Trader: Dark Chocolate with Olive Oil and Sea Salt
August 22, 2017
Here's a little Milwaukee, Wisconsin history. In 1916, Joseph and Lottie Helminiak, founded Quality Candy Shoppes on Mitchell street in Milwaukee. Over the next 100 years, the company has grown, been through some changes, and became well known in Wisconsin.
In the 1960's, Quality Candy bought Buddy Squirrel, a nut roasting and gourmet popcorn company, also located in Milwaukee. It became Quality Candy/Buddy Squirrel. Later, it was purchased and renamed Buddy Squirrel, LLC.
I grew up in the Milwaukee area and remember, fondly, the trips with my Dad to pick up Buddy Squirrel cheese popcorn and eat it while we watched a movie. Quality Candy was the place we'd buy chocolate covered fairy food (sponge candy) for Grandma's birthday and assorted chocolates for Mom on Mother's Day.
Olive Oil in Chocolate?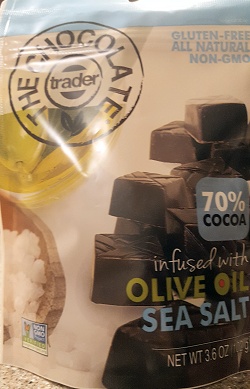 Today, I find myself eating a 70% dark chocolate infused with olive oil and sea salt that I bought at the grocery store. The brand is The Chocolate Trader, but the label reveals it to be from Buddy Squirrel.
This chocolate is non-GMO verified with a simple ingredient list; chocolate liquor, sugar, olive oil, cocoa butter, sea salt, soy lecithin, and vanilla.
This is not my grandmother's chocolate candy!
The chocolate is very rich. The cocoa notes are intense with the sea salt and vanilla adding a nice flavor burst as it melts in your mouth. The finish is a lingering deep roasted flavor, not bitter or harsh.
The olive oil contributes very little to the flavor, but it does impact the texture tremendously. Although the chocolate has a hard snap when you bite into it, once the melting begins, it's different than a 100% cocoa butter chocolate. Its hard to describe, but it feels thicker and creamier and stays in your mouth a little longer, too. For a brief moment near the end, it feels like a melt-away but more viscous.
The sweetness level is where it should be for a 70%. There's no hint of honey or butter as sometimes is the case with a rich chocolate with a thick texture (yes, I'm talking about the natural terroir of a dark chocolate without any added dairy ingredients). The flavor is not complex. There is a simple, steady chocolate flavor throughout.
I rather enjoyed this chocolate. It comes in small bite-sized pieces. Just the right size for dessert after lunch. And after supper. And after breakfast. And after an afternoon snack...

Bryn worked for nearly 10 years in a research and product development for Ambrosia Chocolate Company in Milwaukee, Wisconsin. Now she develops all of the CUO lessons and coaches the members of the
Primal Chocolate Club
.

Latest posts by Bryn Kirk (see all)