Cocoacara Orange and Chili
June 6, 2011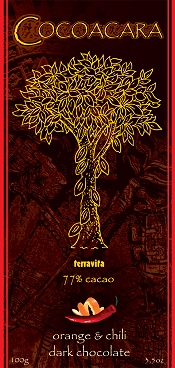 The Terravita Chocolate Company is a Polish chocolate manufacturer making some uniquely flavored chocolate.  I recently tasted the 77% Orange and Chili Dark Chocolate.
The Terravita line of dark chocolate uses 77% cocoa as a bold, chocolate base.  The added, exotic flavor combinations include orange peels and chili, as well as coffee and cardamom.
What I like most about the orange and chili combination is the intense chocolate and orange up front when you first bite into it, and then just when you think you have finished, the heat from the chili kicks in.  It is a pleasant finish albeit a surprise!

The orange peels are tiny and chewy and flavorful--just the way I like them.  The most impressive thing about his bar is the powerful impact of the chocolate at 77%.  (The Lindt Intense Orange is very good, but the chocolate cocoa content is 47% and thus more subdued.)
The website for TerraVita is very interesting.  It is in Polish and built for entertainment.  Check it out--www.terravita.pl.
By the way, you can also order these bars from Amazon (click here to see).
Enjoy!

Bryn worked for nearly 10 years in a research and product development for Ambrosia Chocolate Company in Milwaukee, Wisconsin. Now she develops all of the CUO lessons and coaches the members of the
Primal Chocolate Club
.

Latest posts by Bryn Kirk (see all)