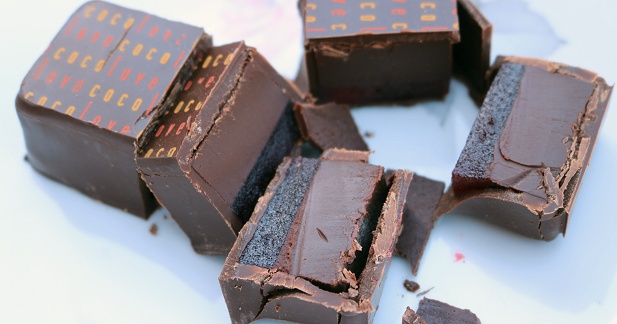 CocoLove Raspberry Bouche Bar
July 24, 2017
Vacationing in Jackson Hole, Wyoming was amazing! The Tetons, the hiking, the biking, the chocolate! The chocolate?
Every vacation destination I make a point to hunt out a local chocolates shop and this was no different. We stayed with family living in Jackson, and they knew where to take me - CocoLove Dessert Boutique. It was full of beautiful creations by pastry chef Oscar Ortega.
Chef Ortega opened CocoLove in 2012. According to his website, www.atelierOrtega.com, CocoLove is a "retail boutique that carries his exclusive lines of Artisan Chocolates, Desserts, Entremets, Confections & variety Artisan breads".
It was hard to choose among so many incredible looking chocolates and desserts. While in the shop I purchased and ate a pain au chocolat. I always enjoy these and this particular one was no exception. Delicious. But this was the bonus because I was here for something containing much more chocolate...
Bouche Bars?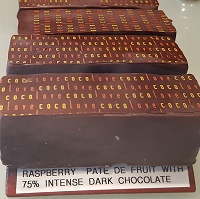 I decided upon a chocolate raspberry Bouche Bar. I don't know why they call it a Bouche Bar. The young woman helping behind the counter didn't know either but she did describe it to me before I bought one.
The Bouche Bar has two layers; the bottom layer is a firm, jellied raspberry, and on top of that there is a thick layer of chocolate ganache. Both are covered in a rich, 75% dark chocolate coating. After listening to that narrative, I didn't really care why they called it a Bouche Bar or what it meant!
The Bouche Bar was $7.99 and the perfect size for sharing. After dinner, four of us sampled the gorgeous creation, and here's what we discovered:
Bouche Bar Tasting Notes
Aroma. We all agreed that strong aromas of cocoa and raspberry dominated. I could detect a hint of vanilla.
When all layers are eaten together, we could all find the chocolatey and raspberry flavors without difficulty. We all thought the raspberry was muted, and I thought it got lost in the chocolate.
By itself, the ganache was our favorite layer. It was smooth, and tasted a little nutty. Separately, the raspberry was very natural tasting and not too sweet. It was nicely tart at the end. This layer reminded me of raspberry fruit leather, not in texture but in flavor. I enjoyed the texture of the jelly, it had just the right amount of firmness.
Within our small tasting group, the 75% dark chocolate coating got mixed reviews. At least two of us detected an "off" flavor. I thought the odd flavor was due to being exposed in a refrigerator too long and picking up surrounding flavors.Someone else thought it reminded him of plastic packaging.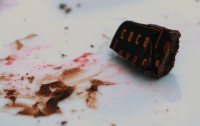 The coating was hard, with a crisp snap. It broke apart when cut or bitten off, but that was not bothersome. Reaching beyond the off-flavor, the coating was strong in chocolatey notes and had a pleasant nutty taste.
In the end, the consensus was that the strongest attribute for this dessert was its appearance. It was beautiful! On display in the store, we were eating it with our eyes and therefore imagined (and expected) that the flavor experience would be just as amazing as it looked.
Unfortunately, it fell a little short. The first reason for this was the low impact of the raspberry. We all would have liked it stronger. The second reason was the off-flavor of the chocolate coating. Still, we enjoyed the overall flavor and agreed that the layers blended harmoniously.
The raspberry bouche bar was fun to share with friends, and we had a great time discussing our thoughts about it. We might not buy this particular dessert again, but we would go back and try other things like their truffles and chocolate bars.
It would not be a bad idea to try one of everything!!
Travel with Chocolate Education...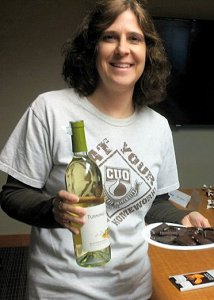 Join Bryn, students of Chocolate University Online, and other chocolate lovers on a journey of chocolate discovery.
Take a look at the Chocolate Travels website for more information on any upcoming chocolate immersion trips. Please put your name on the no-obligation waiting list for more information.


Bryn worked for nearly 10 years in a research and product development for Ambrosia Chocolate Company in Milwaukee, Wisconsin. Now she develops all of the CUO lessons and coaches the members of the
Primal Chocolate Club
.

Latest posts by Bryn Kirk (see all)