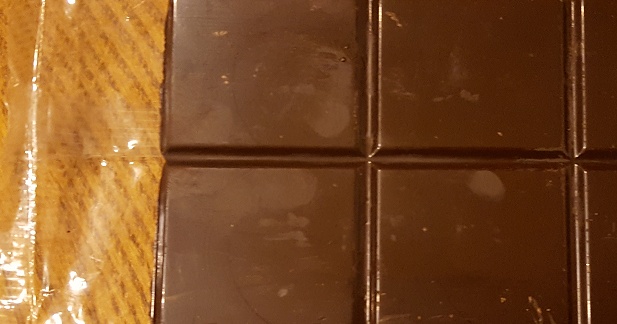 Dark Chocolate Bee-Berry Honey Caramel
November 15, 2017
The Chocolate Chocolate Chocolate company (named for the founders' three children) makes small batch artisan chocolate bars as well as other confections. In 1981, Dan Abel opened the first Chocolate Chocolate Chocolate Company store in St. Louis, Missouri. I found this bar in a specialty store in my neck of the woods, southeastern Wisconsin.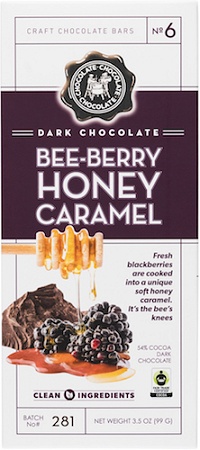 Today's review is for a dark chocolate bar called Bee-Berry Honey Caramel. This is just one of ten varieties and each bar contains either a caramel or a truffle filling.
I like this different twist on caramel. I can taste berries and honey in the filling as well as a nice buttery flavor, especially in the beginning. There's increased sweetness at the finish, but also a hint of vanilla. The dark chocolate gives off a medium-roast impact of cocoa notes with a pleasant nuttiness to it.
According to their website, www.chocolatechocolate.com, fresh blackberries are cooked into their honey caramel. The chocolate is 54% cacao mass.
I enjoyed this bar. I liked the fact that the caramel filling was thin and the chocolate bar was thick. The caramel was tasty enough that it didn't have to be over abundant to make its point.
I would say this bar is perfect for a chocolate lover that happens to like caramel. But it would possibly disappoint a caramel lover who also happens to like chocolate!
In case it sounds perfect, here's a 12-pack on Amazon.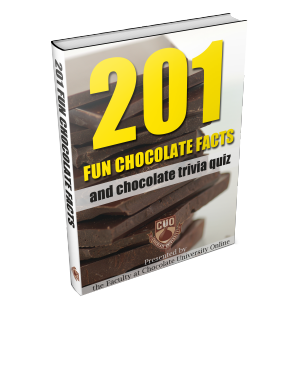 Perfect For The Holidays!
In 201 Fun Chocolate Facts and Chocolate Trivia Quiz you get all the facts and chocolate trivia questions to stump your friends!
CLICK HERE for the low-cost ebook from Amazon.

Bryn worked for nearly 10 years in a research and product development for Ambrosia Chocolate Company in Milwaukee, Wisconsin. Now she develops all of the CUO lessons and coaches the members of the
Primal Chocolate Club
.

Latest posts by Bryn Kirk (see all)