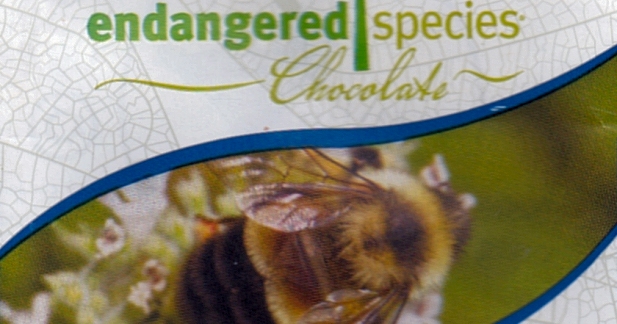 Blueberry Vanilla Crème Filled Dark Chocolate
March 28, 2016
Endangered Species chocolate company donates 10% of their net profits annually to their current GiveBack Partners to help wildlife thrive (to learn more, go to their website).
Each organization is able to use the funds on projects they choose. Over the past three years, more than $1.2 million has been donated. You can quickly see that each chocolate purchase adds up to big support!
You might be thinking, the cause is noble, but how's the chocolate?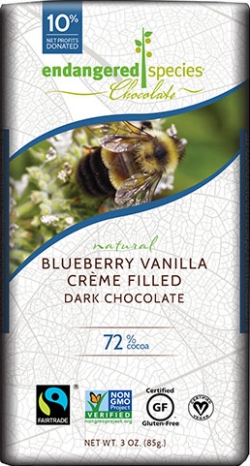 I recently tried the Blueberry Vanilla Crème Filled Dark Chocolate and found it somewhat lacking in the flavor department.
The chocolate was good, but I couldn't taste the blueberry very well, not even as an aftertaste.
The chocolatey notes were of medium strength and stayed that way throughout the bite.
The chocolate was mainly nutty with some spicy and honey notes sprinkled in here and there.
It melted evenly in the mouth.
The blueberry and vanilla, which is tucked inside as a semi-soft cream, had very little "oomph"! Perhaps the problem was with the bar I purchased, but I was expecting a noticeable berry flavor with a detectable level of vanilla thrown in the mix. Didn't happen.
Although this tasting experience fell flat, I will certainly try again. After all, there are so many varieties of Endangered Species chocolate bars yet to try!

Bryn worked for nearly 10 years in a research and product development for Ambrosia Chocolate Company in Milwaukee, Wisconsin. Now she develops all of the CUO lessons and coaches the members of the
Primal Chocolate Club
.

Latest posts by Bryn Kirk (see all)