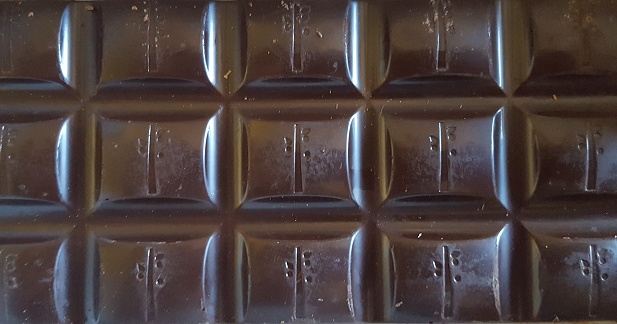 Endangered Species Dark Chocolate with Cherries
June 26, 2017
Chocolate and cherry have a long history together. Case in point, chocolate-covered cherry cordials. At least one brand, Cella's, started making chocolate cherries in 1864 (although large scale production didn't start until around 1929).
The bar I'm reviewing today is made by Endangered Species brand and is NOT a cherry cordial.  It does, however, have that same great taste combination. This is a 72% dark chocolate with bits of dried cherries.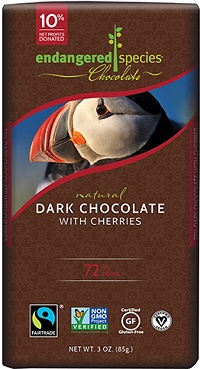 The aromas coming from this bar are delightful. There is a strong scent of cocoa mixed with sour fruit. The aroma is nearly spot on in introducing the flavors.
I taste strongly roasted cacao with sour cherry and a hint of nutty notes. There's vanilla that comes off toward the end, and some bitter and smoky notes at the finish. The chocolate remains a strong lingering presence while the chewiness of the cherry bits continues to the very end.
If you are cherries fan, you might be disappointed. The chocolate is so strong, it overwhelms the cherry flavor until you chew on the cherry by itself after the chocolate is melted away.
I actually like a softer cherry flavor because not only is the chocolate the "focus" of the bar, but it's enhanced by the addition of the cherry, not overtaken by it. These cherry pieces are real, not artificial or "cherry juice infused cranberries" like some brands use.
I've reviewed other varieties of the Endangered Species brand (Cranberry Almond, Blueberry Vanilla Crème). I enjoy the chocolate as well as the feeling good about their mission and vision. Check them out: www.chocolatebar.com.

Bryn worked for nearly 10 years in a research and product development for Ambrosia Chocolate Company in Milwaukee, Wisconsin. Now she develops all of the CUO lessons and coaches the members of the
Primal Chocolate Club
.

Latest posts by Bryn Kirk (see all)