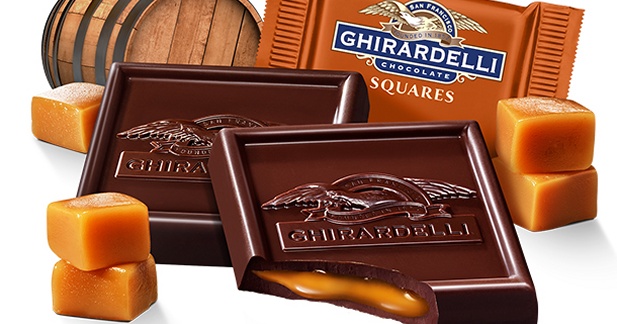 Ghirardelli Dark Chocolate Bourbon Caramel
July 31, 2017
Ghirardelli recently introduced a new variety of chocolate square; Dark Chocolate Bourbon Caramel. Sounds good, right? Unfortunately, I think this is another example of "sounds better than it is".
Of course, I had an expectation of bourbon! I knew this chocolate wouldn't be filled with alcohol, but certainly there would be a recognizable bourbon flavor, right? I like bourbon and have a fairly knowledgeable palate about it. There is definitely an additional flavor in the caramel, but I wouldn't call it bourbon.
A little trick I like to do sometimes during my tastings is to add the power of suggestion. I tried to think of bourbon while tasting this chocolate to see if I could find the flavor, but I still couldn't.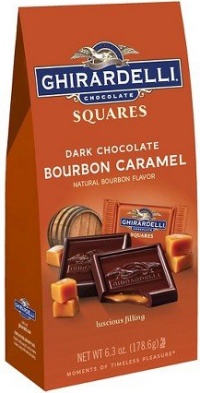 The filling is delicate, smooth and looks like caramel, but it's a mystery flavor for me and hard to describe. There's a lack of standard caramel flavor because I'm unable to taste the usual buttery or toffee notes.
I was hoping there would be a pleasant caramel taste up front with a warm bourbon finish. That's not what happened.
I do like the dark chocolate combination with the mystery caramel flavor because it keeps the sweetness level to a tolerable level. And the chocolate, along with the "filling that cannot not be identified," is a tasty confection overall.
I would never discourage anyone from trying a new chocolate flavor, so I still recommend that you try it. If you have a different opinion than mine, please share. I'd love to know what you think!
Want to get your hands on a package? Here's a link to it on Amazon.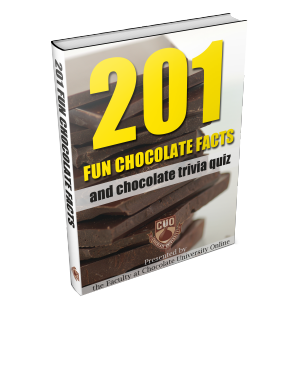 Perfect For Summer Parties!
In 201 Fun Chocolate Facts and Chocolate Trivia Quiz you get all the facts and chocolate trivia questions to stump your friends!
CLICK HERE for the low-cost ebook from Amazon.

Bryn worked for nearly 10 years in a research and product development for Ambrosia Chocolate Company in Milwaukee, Wisconsin. Now she develops all of the CUO lessons and coaches the members of the
Primal Chocolate Club
.

Latest posts by Bryn Kirk (see all)