Ghirardelli Eggnog
December 10, 2012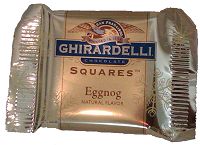 Among the seasonal Ghirardelli chocolates, Eggnog is my least favorite. Don't get me wrong, I do like a unique and interesting flavor in the confectionery arena.
But the chocolate tasting square is white chocolate and extra sweet, which it has to be to offer such a balanced flavor profile between the sweet nature of eggnog and chocolate.

My son is a white chocolate, eggnog, and sweet dessert fanatic, and I bet you have one in your family, too.  If you do, you will not go wrong for giving the perfect stocking stuffer!
For the "adults", it reminds me of a Tom and Jerry, the holiday ho-ho drink.  Of course, this chocolate is not so ho-ho.  No worries about driving after having a couple of these!
Enjoy!!

Bryn worked for nearly 10 years in a research and product development for Ambrosia Chocolate Company in Milwaukee, Wisconsin. Now she develops all of the CUO lessons and coaches the members of the
Primal Chocolate Club
.

Latest posts by Bryn Kirk (see all)