If you love chocolate then you won't want to miss this opportunity...
Step Back in Time to Discover
138 Chocolate and Cocoa Recipes from 1909
From the Desk of Bryn Kirk
Dear Chocolate Lover,
An offer like this doesn't come along every day. In fact it took 100 years for this one to develop!
Back in 1909, Walter Baker & Co., Ltd. hired Miss Parloa, a well known and influential cooking teacher and culinary author of the time, to create a recipe book that they could use to promote their company and chocolate products.
In 2009 the staff at Chocolate University Online acquired the rights to recreate the book in an electronic edition.
We think we made some nice improvements in this...
Special 100th Anniversary Edition
All 138 recipes remain as originally written by Miss Parloa. But we created a useful index and moved the pictures to the appropriate pages.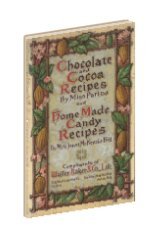 You see, back when the book was originally created the index was simply a listing of each recipe in page number order. We modified the index so that it's in alphabetical order. If you know the name you can easily find the page.
Also, the original had the images printed on inserted color pages. That means the pictures were not on the same pages as the recipe. Sure you could find a picture and then refer to the original recipe, but there was no indication with the recipe where you might find a picture.
So we solved these problems making the book much more user friendly.
All the Original Content, And Easier to Use!
Now you will be able to easily find the recipe you want and, if a picture is available, you'll see it right there on the same page.
We also added some historical information and formatted for easy reading, whether you print the book or read it on your computer or another electronic device.
The Special 100th Anniversary Edition is 70 pages long, including images of the original front and back covers, as well as the original product advertisements that Walter Baker & Co., Ltd included in the book.
Chocolate and Cocoa Recipes by Miss Parloa is available to you today for only $7. You read it right.  Only seven dollars!
You can purchase now and download the PDF format ebook immediately; no need to go to a book store, no wasting time, no running around, no burning gas. You can buy it and be done!
You'll Find Some Old/New Favorites

Look for delicious recipes such as these...
Milton Pudding (page 17)
Cocoa Buns (page 30)
Mrs. Bedford's Chocolate Crullers (page 31)
Turkish Paste with French Fruit (page 39)
Chocolate Nougatines (page 44)
Rose Chocolate Creams (page 52)
Chocolate Molasses Kisses (page 55)
Or imagine making Chocolate Jelly (page 26) with these ingredients...
• 1 pint of boiling water
• 2 pinches of salt
• 1½ squares of Baker's Chocolate
• 1/3 a package of gelatine
• 2 level tablespoonfuls of sugar
• 1 teaspoonful of vanilla
You just have to know the next steps don't you?  Because you can't run to the store and get Chocolate Jelly!
Here's What To Do Next
This ebook is only $7.  It's a PDF document so you get immediate access to it after purchase.
Just click the Add to Cart button below. You'll be directed to a checkout form to complete the transaction.
And it's risk free. I guarantee that you'll love this 100 year old recipe book.
If you're not totally excited by Chocolate and Cocoa Recipes by Miss Parloa for any reason at all I will cheerfully refund 100% your money anytime in the next 60 days.
To make it even better, purchases of this cookbook are through Clickbank, a trusted online retailer.  Since they handle the payment and stand behind the guarantee, you get added security.  You can evaluate the cookbook purchase at no risk.
Go ahead and click this button now...
For security, please note that when you click you'll be taken to a page that shows our banner at the top, has secure payment form indicators, and is followed by the Clickbank guarantee.
You will be charged one time for $7.
YOU WILL RECEIVE ACCESS TO THE COOKBOOK INSTANTLY
(even if it's 2:00 a.m. Sunday morning)
Sincerely,


P.S. Enjoy the cookbook. If you find a new favorite in there, let me know! Oh yeah, and tell me how much you enjoy that Chocolate Jelly.