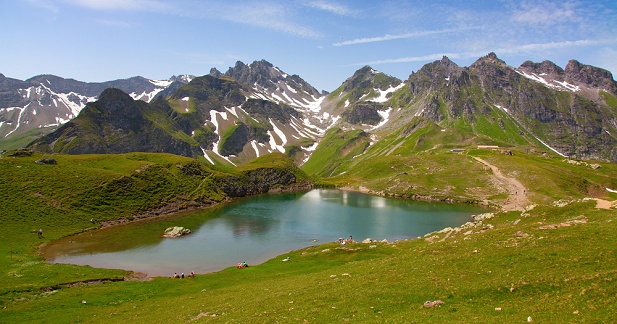 MilkBoy Swiss Alpine Milk Chocolate with Crunchy Caramel and Sea Salt
July 17, 2017
Milkboy is made in Switzerland and according to their website, www.milkboy.com, cows that graze the alpine meadows "produce some of the best-quality milk available, milk for which Switzerland is rightly famed."
In addition to "best-quality milk," the milk solids content is 24%. This is much higher than minimal levels required for milk chocolate in the U.S. (which is 12%). No wonder it's uber-milky and creamy!
The cocoa content is a respectable amount as well, at 33%, bringing with it chocolate notes that can stand up against the powerful dairy flavors. This combination of milk and chocolate percentages creates a delicious flavor profile.
How About Some Tasting Notes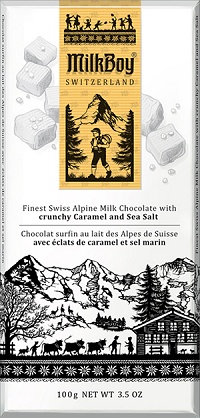 Besides the milkiness and creaminess I already mentioned, the MilkBoy Swiss Alpine Milk Chocolate with crunchy Caramel and Sea Salt is a sweet, nutty chocolate followed by buttery notes, strong caramel, and rich toffee.
The crunchy toffee outlasts the chocolate and lingers at end with a nice aftertaste. The texture is soft and smooth, interrupted by the brittle toffee bits. The label mentions sea salt but I didn't find it particularly salty.
The aromas of chocolate, honey, and caramel are quite strong and enticing.
Just one square (okay, maybe more than one!), is the perfect amount when you need an afternoon pick me up. Perfect with a cup of lemon tea, hot or cold.
I enjoyed this milk chocolate. Milkboy offers dark chocolate, too, so I'll try one. I'll try the 85% for sure and work up the courage to try the 60% Cocoa with essential Pine Tree Oil!
Here's a 5-pack of MilkBoy Swiss Alpine Milk Chocolate with crunchy Caramel and Sea Salt on Amazon.

Want More Chocolate Tasting?
You can join us right now. Learn all about chocolate tasting with milk chocolates, dark chocolates, even white chocolate. Refine your taste buds with expert guidance.

Bryn worked for nearly 10 years in a research and product development for Ambrosia Chocolate Company in Milwaukee, Wisconsin. Now she develops all of the CUO lessons and coaches the members of the
Primal Chocolate Club
.

Latest posts by Bryn Kirk (see all)