Chocolate University Online Store

Flat Rate Shipping
Within the U.S. it's just $5.95 shipping for the entire order regardless of quantities.
Outside the U.S. it's $19.95 for shipping the entire order.

Chocolate Lessons - Audio CDs in case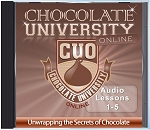 Audio Lessons 1 to 5
These are the first lessons in the 40-lesson education series: you'll learn about tasting milk and dark chocolate, with basic chocolate tasting methods.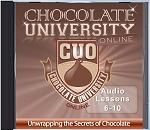 Audio Lessons 6 to 10
Your chocolate tasting lessons continue with single origin, organic, gourmet, and artisan chocolates. Then on to your own chocolate playoffs!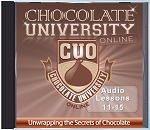 Audio Lessons 11 to 15
In these lessons you'll experience white chocolate and chocolate chips. Then you'll move into the discovery of cacao and its major components.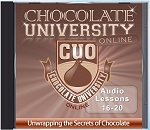 Audio Lessons 16 to 20
For those who work with chocolate these lessons cover tempering, dipping, and molding. You'll also discover the differences between chocolate and confectionery coating.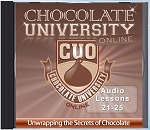 Audio Lessons 21 to 25
You'll learn more about working with chocolate, picking up tips to avoid problems, then moving into cooking and baking with chocolate. You'll also find some interesting chocolate health facts.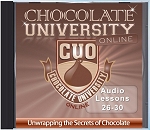 Audio Lessons 26 to 30
We'll dispel some health myths for you. Then you'll dive into natural chocolate flavor development and onto the development of chocolate products - from bean to bar in a chocolate factory.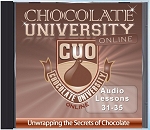 Audio Lessons 31 to 35
Here you'll glimpse some pressing chocolate industry social issues before getting back into unwrapping some exceptional chocolate bars. Then onto wine and chocolate tasting!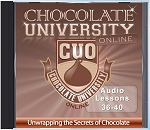 Audio Lessons 36 to 40
Chocolate pairings continue with wine and then other foods. Finally you see mass produced chocolate and the art of handmade chocolates. And finally, you'll get a look at the future of chocolate.