Sweet Obsession Chocolate
July 11, 2011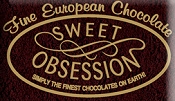 "Simply the finest chocolates on earth!"
Whatever happened to truth in advertising?
I review a lot of chocolate, and I'd be the first to emphasize that anything I report is a matter of subjective opinion and personal preference. That is, what I write is MY personal preference. Just because I like it, doesn't mean everyone will like it. We all get that.
This time, however, you can take my review as gospel truth and just trust me…. YOU WILL NOT like Sweet Obsession™ chocolate.

Contrary to the tag line that is on the wrapper, this bar is simply the worst chocolate on earth.  At a minimum, it's one of the worst I have ever tasted.
The Sweet Obsession Milk Chocolate bar is boldly labeled as "Fine European Chocolate."  I've enjoyed fine European chocolate.  This is not it.  European chocolate makers should be embarrassed to see this phrase on these packages.
There were plenty of warning signs before I bought this bar.  In other words, my my expectations were pretty low from the start.
1. The bar sells for $1.00 despite being a larger size (5.3 oz/150 g) than typical chocolate bars.
2. The ingredient statement declares that in addition to cocoa butter there is vegetable fat, and in addition to whole milk there is whey powder.
3. It is imported by a company (Global Brands, LLC) that is "committed to creating and supplying food products that will never cost more than $1.00 retail." Ok, it really said supplying "extreme value foods," but that makes it sound like a good thing.
It only took one small bite to confirm my suspicions. The chocolate was gritty, tasteless, and waxy. To punish myself even more, I tried the dark chocolate version and guess what? It was gritty, tasteless, and waxy – only in a darker color!
I bought these extreme value chocolates at the local Pick 'n Save grocery store. Don't get sucked in by the price.  And don't believe, even for a second, that Sweet Obsession makes the finest chocolates on earth!
Beware!
(Due to popular request, on May 11, 2015 I re-reviewed Sweet Obsession milk chocolate. You can read that review here.)

Bryn worked for nearly 10 years in a research and product development for Ambrosia Chocolate Company in Milwaukee, Wisconsin. Now she develops all of the CUO lessons and coaches the members of the
Primal Chocolate Club
.

Latest posts by Bryn Kirk (see all)