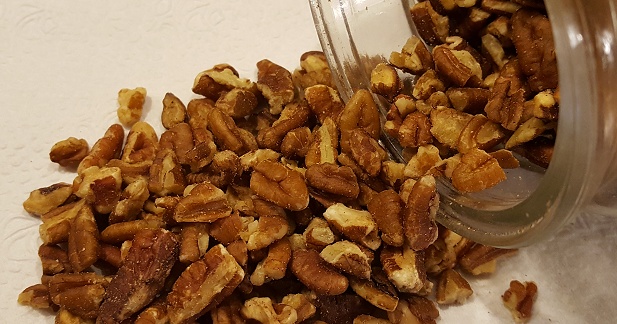 Sweet Valley Organics Dark Chocolate Praline Cinnamon Pecans
October 31, 2017
In 1907, Shibley Azar opened a small store in El Paso, Texas selling nuts and candy. The business grew and is now Sunrise Confections owned by Mount Franklin Foods, LLC. They continue to manufacture confections and nut products. The newest facility makes natural, organic, and functional food products.
According to their website, Sweet Valley Organics snack bites come in five varieties: Chewy Bananas, Sea Salt Toffee Almonds, Tart Cherries, Sea Salt Carmel Cashews, and today's feature item, Praline Cinnamon Pecans.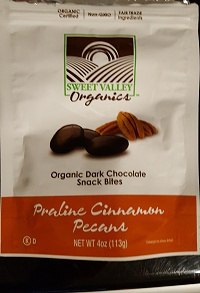 Upon opening the bag, the aroma of cinnamon is very strong. The "snack bites" are actually small bits of pecan pieces that are panned in a thin layer of chocolate coating.
They remind me of chocolate-covered sunflower seeds because many of the pieces are very small. Once in a while there are pieces the size of a small jelly bean.
I think the name "snack bites" is not the right description in this case. But that's not going to stop me from eating them!
The outer chocolate coating is sweet with medium roasted cocoa notes. The bits taste strongly of cinnamon and brown sugar, with buttery and nutty notes towards the finish. They are crunchy and have a good texture overall.
The small size of the pieces make eating them by the handful very easy. They didn't last long in our house!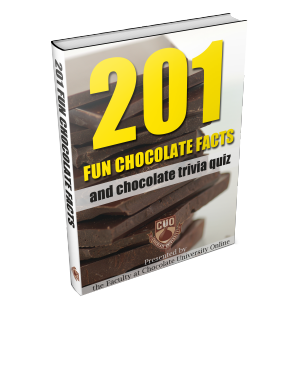 There's So Much To Know About Chocolate!
In 201 Fun Chocolate Facts and Chocolate Trivia Quiz you get all the facts and chocolate trivia questions to stump your friends!
CLICK HERE to get it from Amazon.

Bryn worked for nearly 10 years in a research and product development for Ambrosia Chocolate Company in Milwaukee, Wisconsin. Now she develops all of the CUO lessons and coaches the members of the
Primal Chocolate Club
.

Latest posts by Bryn Kirk (see all)