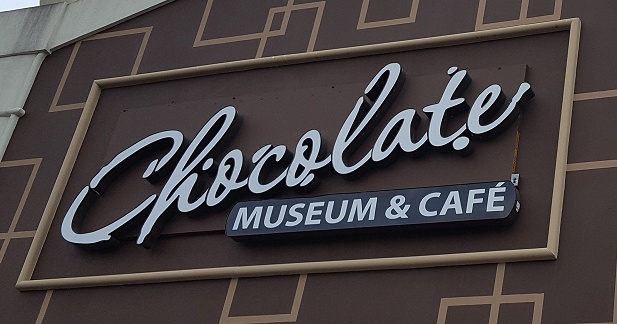 World of Chocolate Museum & Café – Orlando
December 20, 2017
The day we left Orlando from my very productive and fun business trip, we said goodbye to Disney World and headed out for one last adventure – a visit to the World of Chocolate Museum & Café.
Years ago, while working for a large chocolate manufacturer, I visited a chocolate company that had a great collection of old chocolate packaging and advertising. There were hundreds of antique tins, boxes, molds, and posters of chocolate and cocoa production from the early days through modern times. That's what came to mind when I first heard that there was a chocolate museum in Orlando.
I could also picture the chocolate museum going through a timetable from the origin of cacao and how it was used by the Mayans and Aztecs all the way through to how cacao is harvested and turned into candy bars.
But, according to the World of Chocolate Museum brochure, the museum offers a guided tour of the rich history of chocolate, solid chocolate sculptures up to six feet tall, and chocolate tastings.  Their brochure says "Deliciously different. Delightfully fun."
No matter what came to my mind, it sounded like an adventure worth checking out.
When you first walk in, you are greeted by the smell of pastries and coffee from the café and the sight of all the chocolates for sale.  You can purchase admission to the museum and tastings from here.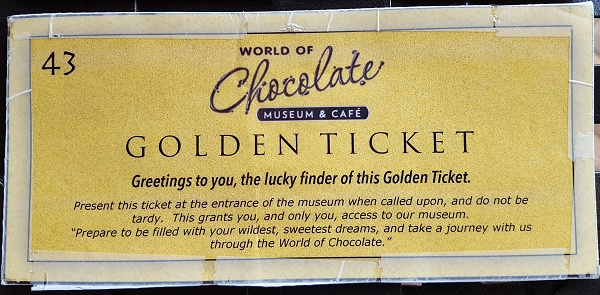 While I waited for the tour to begin, I perused the chocolates for sale. They are grouped according to the countries from which they are manufactured, including a group from the states. I chose to buy several that I've never tasted before, and I picked out ones that were from very different categories. For example, one is Criollo variety (90%) dark chocolate, one is a very high percentage milk chocolate (50%) from Nicaraguan cacao, and one is a single cru (plantation) 70% dark from Madagascar.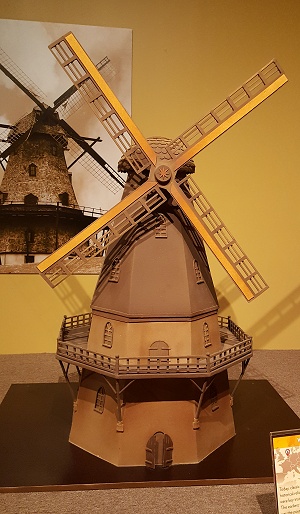 The tour begins with a video introducing us to chocolate's history, growing regions, and the bean-to-bar process. Then we move along to discover how hot chocolate as a drink became the obsession of the rich and famous in Europe in the sixteenth to eighteenth centuries.
The most interesting part of the tour for me was what I'll call the "old equipment" room. There were several pieces of manufacturing machinery that were precursors to modern plant technology. I saw an old conche, a panning drum, an enrober and, my favorite, a stone grinder/refiner (to grind the beans and bean paste into finer particles). Most of the equipment was used in small batch production. Seeing these brought back some fun memories of making chocolate in the lab.
After the equipment room, we stepped into a noticeably colder room where solid chocolate sculptures were on display. For me, I could have skipped this room.  The sculptures were nice to look at, don't get me wrong, but I just wasn't impressed. My blog readers know my brain is more techy-nerdy than artsy-fartsy so this shouldn't surprise any of you!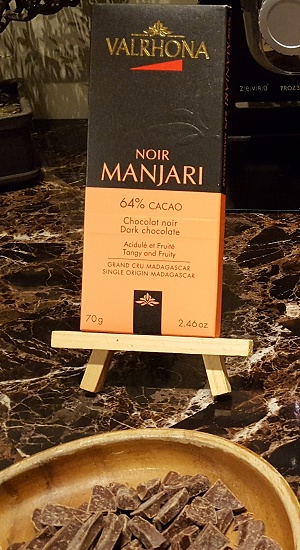 The final stop: the tasting room! This part of the tour did not disappoint. There were nine different chocolates available to sample, and all the samples were available to purchase once you finished and got back to the retail counter. As I ate chocolate, I peppered the poor tour guide with questions, and (I couldn't stop myself) with corrections on things he didn't get quite right during his narrations.
What did I think about the museum? Well, overall, it was fun, I learned things, and tasted "new to me" chocolates. So I give it a thumbs up in spite of being bored in the sculpture room. The price tag for the tour is a little high in my book, at $17, but you can get discounts on the tickets from their website. I will also warn that the chocolate bars for sale are expensive. I can't wait to review them and let you all know if they're worth the price tag!
Watch for the first one next week: Austria's Labooko 50% Nicaragua milk chocolate - $7.90 USD!
See the Sights... Learn About Chocolate!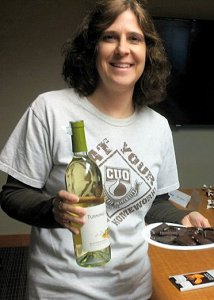 Join Bryn, students of Chocolate University Online, and other chocolate lovers on a journey of chocolate discovery.
Take a look at the Chocolate Travels website for more information on any upcoming chocolate immersion trips. Be sure to put your name on the waiting list if you are interested in more information.


Bryn worked for nearly 10 years in a research and product development for Ambrosia Chocolate Company in Milwaukee, Wisconsin. Now she develops all of the CUO lessons and coaches the members of the
Primal Chocolate Club
.

Latest posts by Bryn Kirk (see all)