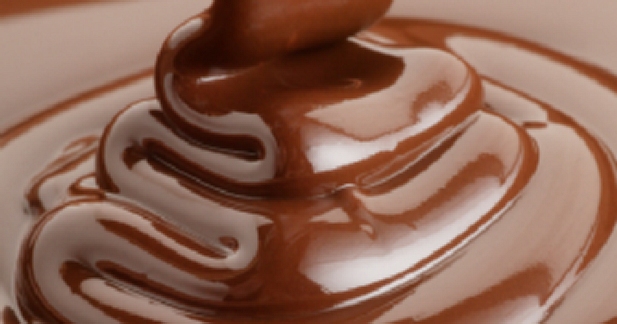 Lecithin in Chocolate
August 22, 2010
Take a look at an ingredient label on a bar of chocolate. 9 times out of 10 you will see soy lecithin listed there.
Is using lecithin as an ingredient in chocolate important, and what is the benefit of using it?
Lecithin is a phospholipid typically derived from soybeans or eggs.  In its liquid form, it is a yellow-brownish fatty substance with a fairly thick viscosity.
Lecithin is very important to chocolate because it reduces viscosity, replaces expensive ingredients such as cocoa butter, improves the flow properties of chocolate, and can improve the shelf life for certain products.
Viscosity reduction, or making a coating thinner, can certainly be done by adding cocoa butter or other fats and oils, but it takes greater amounts to accomplish this and is therefore more costly. 
What Percentage of Lecithin is Used in Chocolate?
If 3.0% or 4.0% additional cocoa butter (could be even greater depending on the viscosity of the finished product) is needed to thin down a coating, only 0.5% of lecithin would be needed to get the same result. A little lecithin goes a long way. 
However, there is a limit for lecithin. After 0.5%, the reducing effects on viscosity stop and can even start to go the other way and increase the viscosity.
Chocolate manufacturers know just how much to use in each formulation to maximize the advantage in viscosity.

Bryn worked for nearly 10 years in a research and product development for Ambrosia Chocolate Company in Milwaukee, Wisconsin. Now she develops all of the CUO lessons and coaches the members of the
Primal Chocolate Club
.

Latest posts by Bryn Kirk (see all)