Liquor and Cordial Filled Chocolates
September 19, 2010
Here is a question that was sent to me recently... 
"How should I make chocolates with liquor filling?  What other various fillings can I choose from?"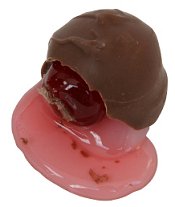 If you bite into a chocolate-covered cherry, chances are you will drip sugary fluid down your chin and onto your shirt.  There is a secret to making chocolates with liquid fillings, with or without alcohol.   

The secret is invertase, a magic ingredient that does all the hard work for you.  Invertase is an enzyme that liquefies sugar (sucrose) crystals. 
Let's use the chocolate coated cherry cordial as an example.  Making one would look a little like this:  drain a jar of preserved maraschino cherries, set the syrup aside and add some invertase.  Coat each cherry with several alternating layers of powdered sugar and the invertase enhanced cherry syrup.  Dip each into tempered chocolate coating.  Invertase starts to break down the sugar immediately and does not stop even after enrobed in chocolate. It is important to apply the chocolate layer extra thick.  If the coating has any weak spots or cracks, the liquid will leak out.
It can take up to a couple of weeks for the sugar to totally dissolve.  Store in a cool room, but not in a freezer.  Freezing temperatures will slow down the liquefaction. 
This illustration is just the tip of the iceberg.  There are many variations of cream and fondant fillings that turn to liquid.  There are lots of books and websites that give step by step instructions on making cordials and liquor filled chocolates.  That is where you should go to find recipes and tips and all kinds of helpful ideas to get you started.
Good Luck!

Bryn worked for nearly 10 years in a research and product development for Ambrosia Chocolate Company in Milwaukee, Wisconsin. Now she develops all of the CUO lessons and coaches the members of the
Primal Chocolate Club
.

Latest posts by Bryn Kirk (see all)