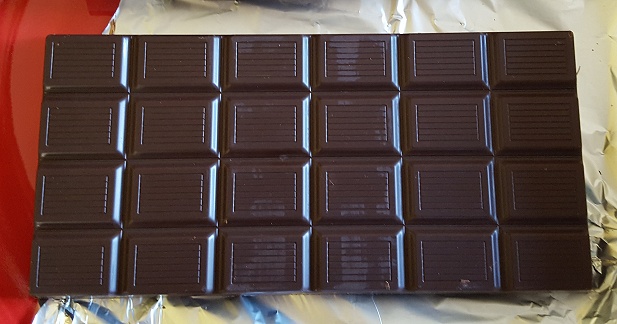 Maca Dark Chocolate by Simple Truth Organic
June 19, 2017
This chocolate bar is a 71% dark chocolate with maca added. The brand is Simple Truth Organic, and it's found in Kroger stores and manufactured in Switzerland.
After tasting a number of milk chocolates for the Milk Chocolate Lover's series, I'm happy to be back to the dark chocolate reviews. This chocolate welcomes me back wonderfully.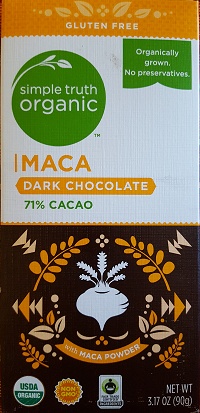 The color of the Maca Dark Chocolate bar is dark brown. The aroma is strong chocolate with lots of hay, grain, and dried grass overtones.
The flavor profile is extremely satisfying with darkly roasted chocolate notes. There's plenty of fruity notes with a noticeable malty flavor and a hint of coffee and vanilla. The finish is slightly bitter and astringent, like a dry red wine.
This is a delicious bar!
Wait a minute - this isn't made from just chocolate there's also maca.
What the Heck is Maca?
Maca is a root grown in the mountains of South America, mainly in regions of Peru. Something more familiar to me is also grown in Peru, Quinoa! Maca root is considered a natural "super food."
I don't know what maca powder tastes like on its own, but some people say it's a little sweet and a little like butterscotch. Others say it's malty or similar to caramel. These flavors would certainly align themselves nicely with chocolate. I think the chocolate and the maca blend perfectly, and the maca even enhances the intensity of the chocolate notes. Perhaps this is why I have trouble identifying flavors that are specifically "maca."
Maca root powder is a great source of nutrition and is made up of approximately 18% protein, 76.5% carbohydrates, 5% fat, and 8.5% fiber. Maca provides over 20 amino acids, including 8 essential amino acids, plus Vitamins B-1, B-2, C, and E, as well as Calcium.
Clinical trials have shown maca increases energy and stamina, and therefore people eat it before exercising. Maca root is also a natural antioxidant.
I wonder if maca was added for this reason – the harmony of their flavors – or maybe it was because of maca's nutritional benefits?
Or, maybe both.
In any case, the two go together well. I'd like to see more chocolates with maca come to market.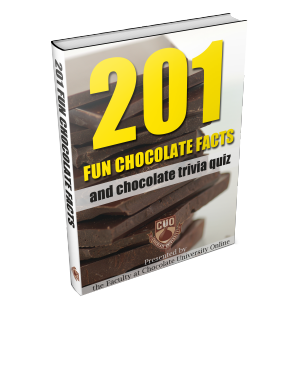 Perfect For Summer Parties!
In 201 Fun Chocolate Facts and Chocolate Trivia Quiz you get all the facts and chocolate trivia questions to stump your friends!
CLICK HERE for the low-cost ebook from Amazon.

Bryn worked for nearly 10 years in a research and product development for Ambrosia Chocolate Company in Milwaukee, Wisconsin. Now she develops all of the CUO lessons and coaches the members of the
Primal Chocolate Club
.

Latest posts by Bryn Kirk (see all)