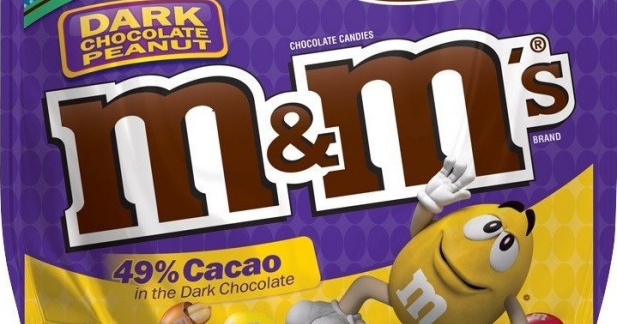 M&M's 49% Dark Chocolate Peanut
August 7, 2017
This past week was snacking on the new 49% dark chocolate peanut m&m's.
Naturally, I assumed that the "49%" advertised on the label indicated that there is now more chocolate in the recipe. I don't really know for certain, since I haven't been able to find the cacao percentage for the original dark peanut m&m's.
My Thoughts on 49% Dark Chocolate Peanut M&M's
With this assumption in mind, I expected the higher percentage variety to be more chocolatey than the regular version. However, I did not find this to be overwhelmingly obvious. The sugar coating still keeps it sweet.
My impression is that the chocolate impact does break through the sweetness level a little more.  And perhaps more chocolatey notes do persists longer at the finish. In all fairness, I didn't compare them side-by-side. I'm going on memory here.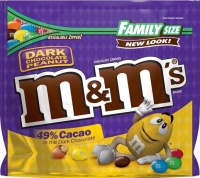 What is Mars trying to tell the consumer by putting 49% on the label? I imagine they want us to believe that it will be more chocolatey AND it will be healthier when we choose this product.
Many  of us have been told and have read research that the higher the cacao content, the more nutritionally beneficial it is for us. For the most part, that is true, but we must take into consideration the amount of sugar that comes along with it. Higher cacao usually means lower sugar but if the overall sugar content is still pretty high, then what health advantage did we gain?
Plus, we all know how addicting peanut m&m's can be (well, I know this to be true at least!) and that one handful can turn into another and another.
Peanut m&m's made their debut in 1954. Developed by Mars just 15 years after launching the "plain" m&m's. In the beginning, they only came in one color, tan. By 1960, they came in all the same colors as the plain ones. Currently, in addition to the peanut variety, m&m's come in many different flavors like almond, crispy, pretzel, peanut butter, caramel to name only a few.
I will say that I enjoy a peanut m&m or two now and then. Okay, a handful of peanut m&m's every now and then. I'm glad to see a higher cacao option but would LOVE to see an even higher option. 
Hey Mars – how about 85% Peanut m&m's in the near future!!??
If you're looking to try some of these new m&m's, your local grocery store might be the best deal. For comparison, here's current pricing at Walmart.com. The price is not very favorable at Amazon, with the best price I could find if you buy 8 family-size bags and get free shipping.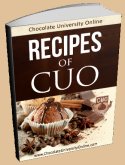 Get "Recipes Of CUO" - FREE!
You'll get 52 chocolate recipes you can make to impress your friends (and a bonus recipe that you put on your face instead of in your mouth). The Recipes Of CUO ebook represents some of the favorite recipes we have published over the years.
CLICK HERE to get a FREE copy!

Bryn worked for nearly 10 years in a research and product development for Ambrosia Chocolate Company in Milwaukee, Wisconsin. Now she develops all of the CUO lessons and coaches the members of the
Primal Chocolate Club
.

Latest posts by Bryn Kirk (see all)